TRAINING, EVENTS, COUNTY AND STATEWIDE
TRAINING, EVENTS, and OPPORTUNITIES
Family Member Roadmap Interactive Online Training Pennsylvania County Map County Events Statewide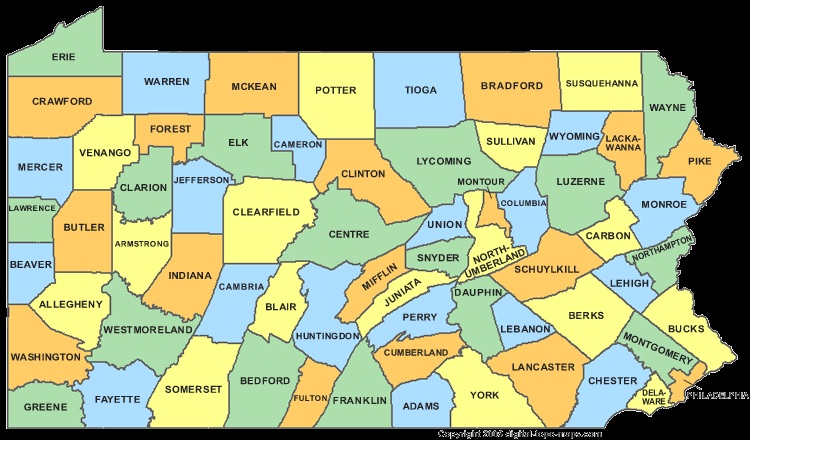 COUNTY EVENTS
Adams Allegheny Armstrong Beaver Bedford Berks Blair Bradford Bucks Butler
Cambria Cameron Carbon Centre Chester Clarion Clearfield Clinton Columbia Crawford Cumberland
Dauphin Delaware Elk Erie Fayette Forest Franklin Fulton Greene Huntingdon Indiana
Jefferson Juniata Lackawanna Lancaster Lawrence Lebanon Lehigh Luzerne Lycoming
McKean Mercer Mifflin Monroe Montgomery Montour Northampton Northumberland
Perry Philadelphia Pike Potter Schuylkill Snyder Somerset Sullivan Susquehanna
Tioga Union Venango Warren Washington Wayne Westmoreland Wyoming York
STATEWIDE, REGIONAL EVENTS, AND TRAINING
See the Sound Visual Phonics©: Making Phonemes Visible to Students

Date(s)/Location(s):
June 22 & 26, 2018 PaTTAN Harrisburg; 9:00 am - 4:00 pm
June 28 & 29, 2018 PaTTAN East; 9:00 am - 4:00 pm
August 1 & 2, 2017 PaTTAN Pittsburgh; 9:00 am - 4:00 pm

See the Sound: Visual Phonics© is a multi-sensory approach to teaching reading, language, and writing skills.
It is a system which associates each sound in our language with a hand signal and graphic symbol.
See the Sound: Visual Phonics© links speech sounds to our other senses in a natural progression.
The mouth movements for each phoneme are then mirrored in a hand gesture.
The gesture in turn is reflected in a written symbol.
See the Sound: Visual Phonics© fixes the movements, which triggers a better memory.
It has been used successfully with students who are deaf or hard of hearing as well as students with learning disabilities, speech and language problems.

Presenter(s): Sue Ann Houser, Jane Freeman and Michelle Andros

Registration Information:
You may register online by clicking on the name of the event on the Training Events Calendar at: http://www.pattan.net/category/Training/Calendar/

For content related information and questions, please contact: Sue Ann Houser at shouser@pattan.net or 800-441-3215.
Or Michelle Bilinksy at mbilinsky@pattan.net or 800-446-5607

For general registration information and questions, please contact: Kristi Simpson at ksimpson@pattan.net or 800-441-3215 x7241.

To obtain directions to PaTTAN, please select the appropriate location:
http://www.pattan.net/category/About/Offices/index.php

Special Instructions:
Attendees must purchase the required materials at a cost of $31.00.
Check or money order must be made payable to ICLI and sent to your local registration contact person.
Purchase orders are also acceptable.
Payment or P.O. must be received prior to the date of the training.
Questions on refunds may be addressed to: Kristi Simpson, ksimpson@pattan.net
LATINOS IN PENNSYLVANIA: 1 MILLION STRONG

The Pennsylvania Latino Convention is scheduled for September 20-22, 2018 at the Lancaster Marriott at Penn Square, 25 S. Queen Street, Lancaster, Pennsylvania.
A CALL TO ACTION:
Pennsylvania's Latino community is the fastest growing segment of the population, accounting for more than fifty-percent of the state's population growth in the last two decades. The Pennsylvania Latino Convention is created to serve as the annual gathering to ignite positive change in local communities across the state while ensuring key stakeholders are accessible, accountable and responsive to the needs of the Latino community.
THANK YOU FOR YOUR INTEREST TO BE A PRESENTER!!!!
The PLC Planning Committee welcomes proposals at all levels of expertise and experience. It is our hope that you will consider submitting a proposal for a concurrent session or panel session. Through your active participation and sharing, the Latino community and all Pennsylvanians will benefit in our collective efforts to improve the social, educational, political and economic status.
Institutes | Concurrent Workshops – MORE THAN 30 PROFESSIONAL DEVELOPMENT EVENTS
• Professional development featuring inspirational stories, leading seminars and speakers on issues that matter to all: health, civic engagement, small business and entrepreneurship, housing, leadership, policy, immigration, education, and poverty.
GENERAL REQUIREMENTS:
-All submissions must be based on original work
-Presentation must include one or all: data driven, policy-oriented, research based, Latino impact
-Submissions must be received by July 15, 2018
-Acceptances will be announced on July 30,2018
-Sessions are 75 minutes
-Allow time for active engagement by convention attendees
NOTE:
• Due to budgetary considerations, it is not possible to offer either an honorarium or a waiver of registration fees to presenters.
• All presenters are expected to submit electronic versions of handouts or other materials used in their sessions to PLC, prior to the conference. The material could be published to a web page and accessible to conference attendees.
• We reserve the right to make any changes as it relates to time allotment and/or placement in the program. These changes will be indicated in your letter of acceptance. Submitting this form does not guarantee selection.
BE A PIECE OF THE PUZZLE TO MAKE OUR COMMUNITY WHOLE!
CLICK ON LINK BELOW:
https://docs.google.com/forms/d/1_C8CZcAjB4kBe4EDKQhIGyMyylsgyTQhWmXjJVjj77U/edit



2018 PA COMMUNITY ON TRANSITION CONFERENCE - Planning Today for a Winning Tomorrow

July 25, 27, 2018

Penn Stater Conference Center and Hotel, 215 Innovation Boulevard, State College, PA 16803

The primary purpose of the conference is to expand the capacity of schools, agencies, and communities, in partnership with youth, young adults and families, in promoting the successful transition of youth/young adults with disabilities to post-school outcomes of employment, post-secondary education and training, community participation and healthy lifestyles. Participants will have the opportunity to learn about effective practices to assist youth/young adults with disabilities to explore possibilities, to take advantage of their opportunities, and to actively advocate for their future.

The primary focal points of this year's conference are:
- Promoting success of all youth and young adults by addressing the transition needs of those who are at-risk and struggling
- Empowering families and caregivers with transition knowledge and resources
- Engaging youth and young adults in social interactions and in understanding their potential for post school success
- Building leadership skills of all transition stakeholders to promote successful outcomes of youth and young adults
- Using transition and career assessment, universal design, accommodations, and supports to build the foundation for self-determination and self-advocacy
- Linking transition, behavioral health, and healthy lifestyles to promote success in adult life by empowerment through self-determination and self-advocacy
- Showcasing evidence-based and effective practices with youth outcome data
- Building and supporting community partnerships and local transition coordinating councils

The conference will feature:
- Keynote presentations
- Over 100 breakout sessions
- Sessions and activities designed for youth and young adults
- Family engaging sessions and networking opportunities
- Accommodations and Supports Expo, featuring hands-on assistive technology exhibits, vendor displays, and resource tables


Youth & Family Team Sessions

Throughout the years, youth/young adults, and families have benefited from the sessions held at the transition conference. Based upon feedback, the planning team has developed a team approach where youth and family members (or a supporting adult) attend sessions together. These sessions include youth development activities, to help youth grow and plan for adult life, with the support of their family (or supporting adult). These sessions, organized by the PA Youth Leadership Network (PYLN), include young adults with and without disabilities as well as other transition stakeholders.

Patrick Schwarz, Ph.D.
Professor Emeritus, National Louis University, Chicago
CEO, Creative Culture Consulting LLC

Dr. Patrick Schwarz is a dynamic and engaging professor, author, motivational speaker and leader in Education (Inclusive Education, Special Education, General Education, and Educational Leadership) and Human Services. He is the CEO of Creative Culture Consulting LLC and Professor Emeritus at National Louis University, Chicago. He wrote, in collaboration with Dr. Paula Kluth, From Disability to PossibilityŽ, You're Welcome Just Give Him the Whale, and Pedro's Whale. His latest book is From Possibility to Success. His professional mission is to promote education and human services that advance the status of people of all ages with diverse support needs. This will enable individuals to successfully be engaged, to find meaning, and to be respected members of their learning, working, and living communities

Lisa S. Meyer, Independent Consultant
Lisa Meyer has worked in the human services field for more than 35 years. Most recently she was the Director of the Tuscarora's Intermediate Unit's (TIU) Training & Technical Assistance Program. In this capacity, Ms. Meyer and her team provided statewide training, which included Person-Centered Thinking (PCT) training as well as technical assistance that supported implementation of state policy and procedure. Currently Ms. Meyer supports states with the implementation of Person- Centered Systems, Person-Centered Thinking Training, Coaching, Plan Facilitation Training, and PCT Trainer Credentialing. She provides technical assistance to educational systems that support students, youth/young adults in transition, their families, and professionals in implementing planning strategies that promote youth advocacy and self-determination. Ms. Meyer is also recognized by the Supporting Families; Charting the LifeCourse National Community of Practice as a Supporting Families Charting the LifeCourse Framework Trainer, Ambassador, Coach and Facilitator. She provides technical assistance and training to State Community of Practice teams and disability organizations.

Registration Fee: The registration fee is $150.00.

You may register online at :
http://www.pattan.net/category/Training/Calendar/event/event.html?id=9491393f-8091-4f12-9fc0-b58523785a52 or
http://www.pattan.net/category/Training/PA%20Community%20on%20Transition%20Conference


Youth and Family Scholarships:
A limited number of scholarships are available for family members or caregivers of a transition-aged youth or young adult with a disability and high school youth between the ages of 16-21 accompanied by an adult (family member/caregiver).
Families are encouraged to apply by completing the scholarship application online at: https://www.surveymonkey.com/r/confscholarship18 on or before June 30, 2018.
The scholarship will cover the cost of a double occupancy hotel room and conference registration fee.
Meals and mileage are on your own.
You will be informed of your acceptance by July 7, 2018.
For additional information about youth/young adult family scholarships, please contact Paula Quinn, 800-446-5607 ext. 6880 or pquinn@pattan.net.
The scholarship form can also be found by visiting our website at: http://www.pattan.net and clicking on the PA Community on Transition Conference link located on the training tab.

Credits: Act 48 Clock Hours, CRCC
A

For content related information and questions, please contact (Hillary Mangis) at hmangis@pattan.net or (800-446-5607 x6878).

For general registration information and questions, please contact (Paula Quinn) at (pquinn@pattan.net) or (800-446-5607 x6880).


SECOND ANNUAL PHILADELPHIA TRAUMA TRAINING CONFERENCE
The Second Annual Philadelphia Trauma Training Conference will provide an intensive, collaborative training experience to providers, educators and leaders across health, education, and social service disciplines, as well as to community members invested in the health of their families, neighborhoods, and cities. Participants will identify, explore, and experience approaches to:
Prevent incidences of trauma for individuals, families and communities;
Prevent vicarious trauma to sustain a healthy, vibrant workforce and community
Mitigate the impact of trauma on individuals, communities, and systems in order toprevent negative social, psychological, educational, and health outcomes, and;
Prevent vicarious trauma to sustain a healthy, vibrant workforce and community
July 23-25, 2018 Post-conference Workshops: July 26,2018 REGISTRATION
DEAF or HARD OF HEARING SUMMER ACADEMY FOR PENNSYLVANIA STUDENTS
The Office of Vocational Rehabilitation, Bureau of Vocational Rehabilitation Services (BVRS) in partnership with the Bureau of Special Education's Pennsylvania Training and Technical Assistance Network (PaTTAN), the PA Office for the Deaf and Hard of Hearing (ODHH), and The Pennsylvania State University are pleased to offer:
Summer Academy for Pennsylvania Students who are Deaf or Hard of Hearing: Enhancing Independence Skills for Students Transitioning to Post-Secondary Education.
Dates: July 8 through July 27, 2018 Location: Pennsylvania State University, University Park, PA

Academy Details:
-A three-week experience available at no cost to parents and students building on current student skills and enhancing independence and self-advocacy skills for students transitioning to post-secondary education
Available at no cost to eligible students currently enrolled in 9th, 10th, 11th or 12th grade in the 2017-2018 school year who anticipate attending a two/four-year college or technical/trade school after graduation from high school *charges may apply to out-of-state students
Focus areas include self-advocacy and networking skills, career awareness, social skills, communication access options awareness, and enhancing access technology skills

Students reside at Penn State in a dormitory, sharing a room with another student
For more details and online application, please go to http://sites.psu.edu/summeracademydhohstudent.
Attendee slots are filling quickly. Please have your students apply as soon as possible. Deadline to apply has been extended to February 28, 2018.

Questions should be directed to: Russ Goddard (Program Director)
Bureau of Vocational Rehabilitation Services (BVRS)
100 Margaret St
New Castle, PA 16101
Phone and videophone: 717-831-0336
Fax: 724-656-3265
Email: rgoddard@pa.gov
SAVE THE DATE: REHABILITATION AND COMMUNITY PROVIDERS ASSOCIATION 2018 ANNUAL CONFERENCE
October 2-4, 2018 Hershey Lodge, Hershey PA
SAVE THE DATE: THE 7TH ANNUAL ADHD AND EXECUTIVE FUNCTION CONFERENCE
at the Hilton Garden Inn off of I-79 in Canonsburg/Southpointe, Pittsburgh Area – Friday, September 14, 2018 (easy access and free parking).
PAR Solutions Conference information for 2018 coming soon!
James E. Anderson Pennsylvania Conference on Juvenile Justice for 2018 coming soon!
GOVERNOR'S ADVISORY COMMITTEE for PEOPLE with DISABILITIES Meeting Dates for 2018
The 2018 meetings of the Governor's Advisory Committee for People with Disabilities will be one day, face-to-face meetings, on the following dates.
Friday, May 25, 2018 Friday, September 07, 2018 Thursday, November 29, 2018

All meetings are scheduled from 9:30 AM to 3:00 PM, at the following location: PA Department of Education's Heritage Room, 333 Market St, Harrisburg, PA 17126
If you have any questions, please contact Devon Grant at 717-783-4287, dgrant@pa.gov, or Lisa Anastasi at 717-346-4381,lanastasi@pa.gov.
PENNSYLVANIA COMMUNITY on TRANSITION CONFERENCE - 2018 Pennsylvania Planning Today for a Winning Tomorrow
July 25-27, 2018 Penn Stater Center and Hotel, State College, PA
If you are interested in presenting at the 2018 Pennsylvania COP Transition Conference July 25-27, 2018 at the Penn Stater Conference Center and Hotel in State College, PA. The deadline for conference proposal submissions is – January 22, 2018.
Conference Overview & Proposal Guidelines
We encourage you to share the Conference Overview & Call for Proposal Guidelines form with all of your network stakeholders.
Please direct any questions or concerns regarding this year's conference to
PA CARES SIXTH ANNUAL TRAINING SUMMIT
MAY 24, 2018
Place: Elizabethtown, PA
This summit will expand the knowledge base and skills of behavioral health providers who deliver services to active military members, veterans, and their families.
Click here for the flyer for more information.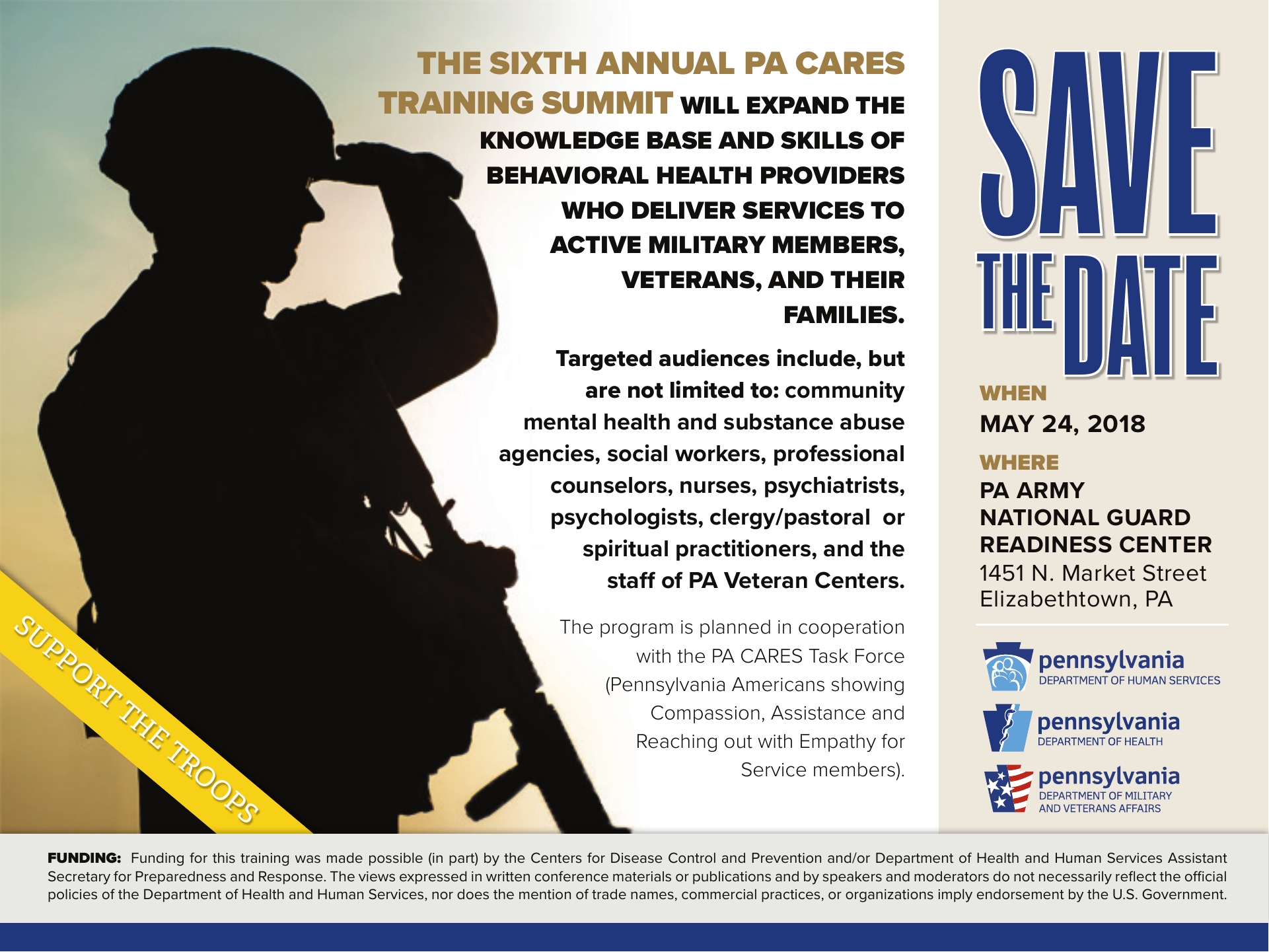 CONFERENCE JUVENILE DETENTION CENTERS and ALTERNATIVE PROGRAMS (JDCAP) PA JUVENILE JUSTICE SERVICE CONFERENCE
CALL FOR PRESENTATIONS September 26-28, 2018
 Kalahari Resort and Conventions, 250 Kalahari Blvd., Pocono Manor, PA 18349
Sponsored by: Juvenile Detention Centers and Alternative Programs (JDCAP) The Juvenile Detention Centers and Alternative Programs is pleased to issue a
"Call for Presentations" for our upcoming PA Juvenile Justice Service Conference being held September 26-28, 2018, at the Kalahari Resort and Conventions in Pocono Manor, PA.
To make this Conference successful for juvenile justice professionals, we need subject matter experts who are willing to share their wealth of knowledge. For more information, please visit http://www.jdcap.org/Pages/ConferenceInformation.aspx.
OFFICE OF EDUCATIONAL RESOURCES AND PLANNING
Western Psychiatric Institute and Clinic
Office of Educational Resources and Planning (OERP)
3811 O'Hara St., Champion Commons Bldg.-3rd Floor, Pittsburgh, PA 15213 412.275.3691 or 412.204.9080
www.wpic.pitt.edu/oerp/
The Office of Educational Resources and Planning (previously Office of Education and Regional Programming) or OERP is dedicated to providing state-of-the-art training and technical assistance to mental health service providers throughout western Pennsylvania and beyond. Utilizing the knowledge and expertise of staff and faculty who are leaders in clinical care and research, the OERP strives to assist providers in achieving and maintaining the highest level of quality standards in the services provided to mental health consumers and family members.
WEBINARS LIST
INTERSECTIONALITY: ADDICTION, RECOVERY, INCARCERATION & RACE
10:00 AM (EDT) May 24, 2018 Webinar:

Description: The content of this webinar will be a personal narrative of the lived experiences of an individual who began life in poverty, misused drugs, was incarcerated, and encountered the oppression that most Black males experience. While we all tend to form initial impressions based on visible features, it is often the invisible and intersecting characteristics that are important for delivering effective, culturally responsive communication and care. While this webinar concerns one person's life, that life may be reflective of the lives of some of the diverse clients seeking to access healthcare services.
One CEU will be awarded for participation in the full hour-long webinar.

Registration is free, but required.
Register by (enabling cookies on your web-browser then) going to the link below:
https://www.eventbrite.com/e/intersectionality-addiction-recovery-incarceration-race-tickets-45884604086
On/before May 23rd, you will be emailed
(i) the URL for the Zoom Webinar sign-in page and
(ii) other pertinent information.
Note: you do not need the Eventbrite registration "ticket"
Please do not request more than one ticket, since to do so means that we will not be able to identify nor directly contact your colleagues associated with "extra" tickets, hence they will not be able to receive a CEU certificate.
Presenter: Nate Rush, Director of Bethlehem House, is an instructor for Recovery Coach Training (ICAADA/IAIC) and trainer for Forensic Peer Training programs. He also serves as a consultant concerning recovery services and has experience addressing HIV/AIDS in the addiction community.

This webinar is part of the online Cultural Competence Training Program funded by the Indiana Division of Mental Health & Addiction and implemented by the Equity Institute on Race, Culture and Transformative Action at Indiana University Purdue University Indianapolis (IUPUI).
David A. Suzuki, Ph.D.
Professor Emeritus, Indiana University School of Medicine
Director, Equity Institute on Race, Culture & Transformative Action (IUPUI)
e-mail: dsuzuki@iupui.edu


WEBINARS from the NATIONAL CONSUMER TECHNICAL ASSISTANCE CENTER Doors to Wellbeing
Free but must pre-register. Held every last Tuesday. Many webinars available to listen to as well.
Workshop participants will learn to define mental health and wellness for themselves, understand how their mental health and wellness affects their work as a peer specialist and develop personal tools for improving and maintaining mental health and wellness.
PA EMPLOYMENT FIRST STATE LEADERSHIP MENTORING PROGRAM
2018 Community of Practice Webinar Series
2:00 - 3:30 pm
Overview: In this second installment of the EFSLMP Workforce Webinar Series, Gail, Genni and Karen will continue to discuss strategies and tips to help you reach your goal of a high performing workforce. This session focuses on activities and strategies after the initial orientation process. The discussion will include tips for how to create an ongoing workforce development and training strategies, conduct meaningful evaluations and create teams that support continued development of highly performing staff.
Genni Sasnett, Karen Lee and Gail Fanjoy will co-present three 90 minute webinars sharing best practices and stories from agencies they work with on the journey to a strong workforce. In the second of the three part Employment Workforce series, the discussion will continue on creating high performing work teams and the final webinar will discuss how to mentor, supervise and support a decentralized workforce.
Please submit any questions that you would like answered as to these topics to Devon Grant at dgrant@pa.gov prior to the webinars and we will be sure to cover those questions.
Presenters:
Sara Genevieve "Genni" Sasnett is a consultant with expertise in community employment and other fully integrated community services for people with disabilities, systems change and provider transformation as well as decentralized program management and agency asset reallocation. She has provided consultation to a broad array of entities from state governments and private provider agencies to the U.S. Department of Defense Overseas Schools and the government of Bahrain. She has been project director on a number of grants directed towards systems change, both federally and privately funded. Before her retirement in January 2014, she was the COO for St. John's Community Services, a not for profit agency headquartered in the District of Columbia serving people with disabilities in 100% community based services in DC, TN, VA, and PA. She is currently a consultant for the Institute for Community Inclusion (ICI) at the University of Massachusetts Boston. In her work at ICI she provides technical assistance directly to private providers, assisting them with conversion from sheltered work and segregated services to community integrated work and community based day services that support the acquisition, retention and advancement of employment. Genni holds a Master's degree in Transitional Vocational Special Education from George Washington University
Karen Lee, with a Master's Degree in Transition, Special Education and Public Policy, has dedicated her 30-year career to advocate for the active engagement of people with intellectual and developmental disabilities in all aspects of community life. As the executive director of SEEC for 27 years, a provider of adult services in the Montgomery, Prince Georges Counties in Maryland and the District of Columbia, Karen has staunchly worked to break down barriers to community inclusion and promote Employment First practices for people with intellectual and developmental disabilities. From 2006 to 2009, Karen successfully led SEEC through a conversion from a center-based model to delivering day time, community living, and employment supports solely in the community. She has also supported her peers as a consultant providing training and technical assistance to other agencies who want to pursue a similar organizational change. In 2016, Karen received the APSE Public Policy Advocate of the Year Award and was recognized by Maryland's The Daily Record as a Most Admired CEO. Also in 2016, SEEC received the Moving Mountains Award from the National Alliance of Direct Support Professionals for the agency's work on recruitment, training and retaining highly performing direct support staff.
Gail Fanjoy is the Executive Director of KFI where she has worked in a variety of positions for over 38 years. She is a member of the national board for TASH, New England TASH co-president, President of Maine APSE, and a member of Maine's Employment First Coalition representing a customized employment service provider. She has provided leadership in Maine, New England, and nationally for many years as KFI has transformed their services one person at a time to provide customized supports that enable people to live lives as included, valued and respected individuals in communities in Maine.
To Join the Webinar: Please register for the PA EFSLMP Community of Practice Webinar Series at https://attendee.gotowebinar.com/register/4189428861712912386.
After registering, you will receive a confirmation email containing information about joining the webinar.
Participants only need to register one time and they will be registered for all of the webinars in the series and will receive reminders regarding upcoming sessions.
Recordings of past webinars and related resources can be found at https://tinyurl.com/Emp1st.
Who Should Participate? Program Managers, Employment Specialists, Job Developers, Job Coaches, Vocational Counselors, Educators, Employment Stakeholders, Supports/Service Coordinators, Self-Advocates and Families.
Questions? Please contact Devon Grant at (717) 783-4287 or dgrant@pa.gov with any questions you may have.
Future topics in the 2018 PA EFSLMP Community of Practice Webinar Series will be:
February 27: Middle Management- From Supervisor to Mentor
March 27: Management in Decentralized Supports
April 24, May 22, June 26: Best practices in rural areas – 3 webinars
July 24: Strategies for engaging with employer partners
August 28: Reasonable accommodations under the ADA, and assistive technology
The Employment First State Leadership Mentoring Program (EFSLMP) is a cross-disability, cross-systems change initiative of the US Dept. of Labor, Office of Disability Employment Policy (ODEP). The goal of EFSLMP is to align policies, coordinate resources, and update service delivery models, in order to facilitate increased integrated employment options for people with the most significant disabilities. Pennsylvania is one of 19 core states selected to receive intensive technical training and assistance. Pennsylvania has requested training related to increased successes in Provider Transformation.
ODEP's EFSLMP National Community of Practice Webinar Series is structured to augment the technical assistance areas of primary focus in Employment First systems change (Capacity Building, Provider Transformation, School-to-Work Transition, Employer Engagement, and Policy/Funding Alignment). CoP participants will benefit from national subject matter experts (SMEs) presenting information and resources to support Employment First efforts.
If you are not a current subscriber to ODEP's EFSLMP mailing list, you can register here.
Devon D. Grant | Executive Director Governor's Cabinet and Advisory Committee for People with Disabilities
Room 333 Health & Welfare Bldg. | Harrisburg, PA 17120
Phone: 717.783.4287 | Fax: 717.772.2062 Website
WEBINAR Archived: Blurred Lines: The Converging Worlds of Child Welfare, Behavioral Health & Physical Health
New care coordination payment and service delivery models continue to emerge, such as Certified Community Behavioral Health Centers (CCBHCs), which require care coordination with child welfare and therapeutic foster care agencies.