MONTGOMERY COUNTY SUPPORT GROUPS / ORGS
PA SYSTEM OF CARE PARTNERSHIP MONTGOMERY COUNTY FAMILY SUPPORT GROUPS AND ORGANIZATIONS
GRANDPARENTS RAISING GRANDCHILDREN SUPPORT GROUP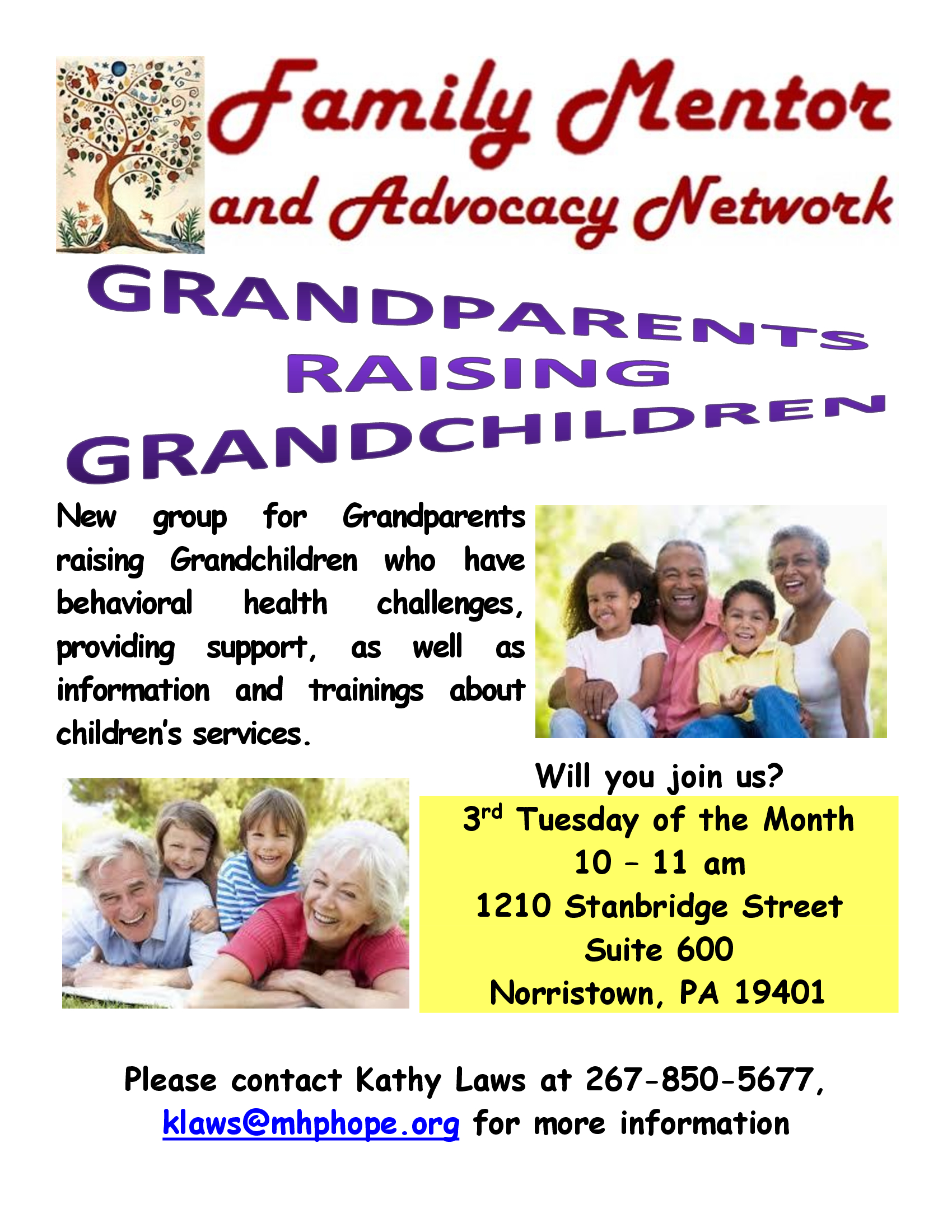 DOMESTIC VIOLENCE SUPPORT GROUP
A weekly women's support group providing emotional support and guidance in developing assertiveness and stronger selfesteem. This group provides an opportunity for women to sort out feelings in a safe and confidential setting. This group is facilitated by a domestic violence social worker.
Domestic Violence Social worker – 215-481-2576
AL-ANON SUPPORT GROUP
This is a fellowship of people whose lives have been affected by alcoholism in a family member or a close friend. This group meets in Abington and Warminster
Abington: Every Sunday Evening 7:00pm – 8:30pm Abington Hospital, Lenfest Pavilion, Rooms P&G Contact: 215-222-5244
Warminster: Every Tuesday Evening 7:30pm – 9:00pm Abington Health-Warminster Main Building, 1st Floor, Main Meeting Room Contact:
Allison Hudson – 215- 206-3005
ADULT CHILDREN OF ALCOHOLICS SUPPORT GROUP
A fellowship of men and women based on a 12-step program of recovery, this program is intended for adults who are affected by growing up in a home affected by alcoholism, or by any other dysfunction. Every Sunday Morning 9:00am – 10:30am Abington Hospital, Lenfest Pavilion, Rooms P&G Contact: Brian – 215-281-9045
GRIEVING SUPPORT GROUPS BY SAFE HARBOR
Safe Harbor provides support groups for children, teens, young adults and parent/caregiver that have experienced the death of a loved one. All groups are held at the Abington Health-Willow Grove, Pennwood Building, 4th floor. Groups are led by trained, experienced facilitators in a caring and supportive atmosphere.
A Program for Grieving Children, Teens and Families This grief support group is for children, teens and families who have lost a loved one through death. Children ages four through eighteen are assigned to age appropriate group A young adult group (ages 19 to 30) is also available. Parents and guardians are provided with necessary tools to understand and assist their grieving children.
This group meets every other Tuesday, Wednesday or Thursday from 6:30 – 8:00 pm. Pre-registration is required.

Young Adult Grief Support Group This group will meet the needs of young adults ages 19 to 30 who are grieving the death of a loved one. This group meets every other week on Monday evenings from 6:30 to 8:00 pm. Pre-registration is not required.
​Camp Charlie Camp Charlie is a grief support camp sponsored by Safe Harbor in June. Camp Charlie is open to campers ages 6-12, and buddies over age 13 that have experienced the death of a parent or sibling. Camp Charlie activities are based on the expressive arts as healing measures. Camp Charlie is open to all and is free of charge For more information or to register for any of our programs, please call (215) 481-5983
For flyer click here.
ABINGTON JEFFERSON HEALTH SYSTEMS SUPPORT GROUP LIST Click here.
NATIONAL ALLIANCE FOR MENTAL ILLNESS PA NAMI PA Montgomery County Family & Caregiver Support Groups
are for family members, caregivers and friends who have a loved one living with a mental illness. Support groups offer family members the opportunity to share the challenges and successes that they face while supporting their loved one. These groups are confidential and facilitated by NAMI-trained individuals, who themselves have a loved one with a mental illness. http://www.namimontcopa.org/ info@namimontcopa.org (215) 361-7784
Lansdale, Saint John's United Church of Christ, Main Street and Richardson Avenue, Lansdale PA 19446-2071 1st Tuesday of each month, 7:00 PM
Lower Providence (Eagleville), Lower Providence Presbyterian Church, 3050 West Ridge Pike, Room 205, Eagleville PA 19403 1st Monday of each Month, 7:00 PM
Abington/Glenside, Abington Presbyterian Church, 1082 Old York Road, Abington, PA 19001 2nd Thursday of each month, 7:30 PM
Pottstown, Creative Health Services, Consumers Library, 11 Robinson Street, Pottstown, PA 19464-5438 1st Monday of each month, 7:00 PM
NAMI BASICS
NAMI Basics is a free, six session course for parents and other primary caregivers of children and adolescents living with mental illness. The class is taught by parents or other primary caregivers who have lived similar experiences with their own children. NAMI Basics is an educational program that provides learning and practical insights for families.
NAMI Office 100 W. Main Street, Suite 204, Lansdale, PA 19446 parking in rear, Please call 215.361.7784 or email at nami-montcopa@verizon.net​ for more information and to register.
VOICES FAMILY SUPPORT GROUP
meets the 1st Tuesday of every month 7:00 to 8:30 PM – Horsham Friends Meeting House, 500 Easton Road, Horsham for both adults and young people, are for loved ones of people who hear, see or sense things that other people don't, and want to learn and grow together.
Call Creating Increased Connections (CIC) 484.681.9432 for more information.
NEW DIRECTIONS BIPOLAR & DEPRESSION SUPPORT GROUPS
(call New Directions 215.659.2366 for more information):
For Consumers: 2nd and 4th Thursday of every month 10:00 AM Giant Food Store, 315 York Road, Willow Grove
For Consumers: 1st and 3rd Tuesday of every month 7:30 PM Abington Presbyterian Church, 1082 Old York Road, Abington
For Family/Caregivers: 1st and 3rd Tuesday of every month 7:30 PM Abington Presbyterian Church, 1082 Old York Road, Abington
NAMI MAINLINE SUPPORT GROUP
The Bryn Mawr Family Member Support Group meets the first Monday of every month at 7:00 p.m. in Bryn Mawr. If you have a family member or loved one with mental illness and are interested in this support group, please contact Susie Vernick at 610-649-5206 for more information. http://namipamainline.org
NAMI PA MAINLINE 320 Woodley Road, Merion Station PA 19066-1413
267-251-6240 info@namipamainline.org Facebook: facebook.com/NAMIPAMainLine Twitter: @NAMIPAMainLine
FAMILY MENTOR & ADVOCACY NETWORK (formerly MontCo Parents Involved Network)
Family and Youth Mentors, we use our own experiences to inspire hope and provide support to others who are facing similar challenges. We help create connections at all levels of our community so that families and youth have a positive impact on their own lives and on organizations who offer services to families.
MHA, 700 E. Main Street - 2 North, Norristown, PA 19401 267-507-3486 http://www.mhasp.org