Dr. Sandra Bloom and Diane Wagenhals What's The Big Deal About Trauma
Sandra Bloom, MD and Diane Wagenhals, speakers
What's The Big Deal About Trauma
Date: Thursday, April 22, 2021, 2:30 pm to 4 pm EST
Recording:
After viewing the webinar above, you have the option to download a Certificate of Viewing by Completing a brief evaluation and attesting that you viewed the webinar in its entirety. However, this is not a Certificate of Attendance for the webinar when it was live broadcasted. Additionally, viewing the webinar through the website does not permit applying for or issuing Continuing Education Credits.
Please Click Here to start the evaluation and download your Certificate of Viewing.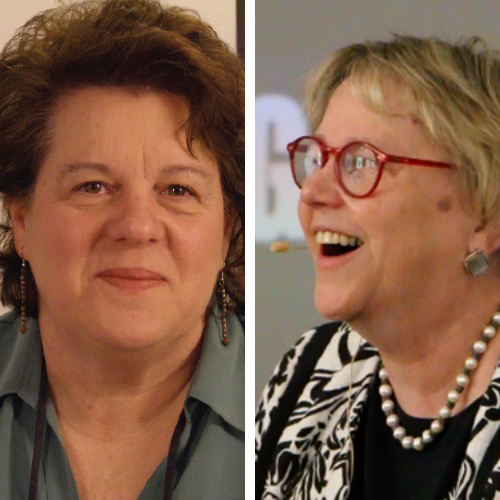 Diane Wagenhals is a Program Director for Lakeside Educational Network located in North Wales, PA. She has written over ten courses on trauma for the Lakeside Global Institute, including four that were taught at Jefferson University, allowing graduates to declare a minor in Trauma Studies. She has presented at dozens of conferences all over Pennsylvania. She is an officer on the board of The Campaign for Trauma-Informed Policy and Practice, http://www.ctipp.org, a national organization founded by Dr. Sandra Bloom in 2016, whose mission is to influence Congress to incorporate trauma-informed principles into legislation
Dr. Sandra Bloom is a Past-President of the International Society for Traumatic Stress Studies and author or co-author of a series of books on trauma-informed care: Creating Sanctuary: Toward the Evolution of Sane Societies published in 1997 with a second edition in 2013; Destroying Sanctuary: The Crisis in Human Delivery Service Systems published by Oxford University Press in 2010 and Restoring Sanctuary: A New Operating System for Trauma-Informed Systems of Care, published by Oxford University Press in 2013.
Many organizations today are under a lot of pressure to become trauma-informed. Both professionals and parents are hearing about the importance of recognizing as well as preventing trauma from happening to the children in their lives. These demands can be a source of confusion: what does being trauma-informed actually mean? Why is it so important? What is trauma about anyway?
Sandra Bloom, MD author of Creating Sanctuary: Toward the Evolution of Sane Societies, and Diane Wagenhals, Program Director for the Lakeside Global Institute. Together they describe what both history and science have taught us about the nature of trauma, what becoming trauma-informed and trauma-responsive means, and why it is such a big deal.
Research shows us that those who impact the lives of children have the power to prevent trauma as well as to respond effectively to trauma-related behaviors. It is essential for us to become trauma-informed if we are going to effectively address the devastation that trauma imposes on human life. Attending this webinar will give you the answer to the question, What's the Big Deal about Trauma?
Learning objectives:
Define trauma and its impact, why it is such a big deal;
Describe the causes and neurobiological underpinnings of trauma; and,
Explain what being trauma-informed means for organizations and individuals.