Coach Approach to Adaptive Leadership Training
The Coach Approach to Adaptive Leadership Training
"Change the conversation, change the relationships, change the culture, change the systems, create durable sustainable systems of care."
The PA Care Partnership and the Office of Mental Health and Substance Abuse Services is partnering with the Coach Approach Partners coachapproachpartners.com to provide leadership training to state agencies, county agencies, providers, youth and family throughout Pennsylvania.
Background:
The Coach Approach to Adaptive Leadership was developed to support health and human services organizations in building coaching skills as core skills for adaptive leadership. This connects coaching as a daily approach for how to respond to complexity in times of constant uncertainty. This approach is important to be adopted and modeled by leaders/managers who are responsible for orchestrating all types of organization, culture, and systems change, and can ultimately be learned and used by all members within the organization or setting.
Purpose:
Coaching can focus on specific skills and abilities to reach targeted outcomes, enhance performance and develop deeper levels of critical thinking. Coaching has the potential to be utilized in all types of work situations and at all levels of the organization system. The Coach Approach to Adaptive Leadership curriculum was designed to orient participants to a coaching model, provide opportunities to practice coaching and to customize the coaching application to the unique needs of each organization, targeting various levels within the organization.
Target Audience:
This training is for leaders, administrators, supervisors, managers, and program staff, who are interested in learning about the leadership coaching mindset and skillset. It is essential for the participants to attend the training by choice. This training is not remedial and loses effectiveness if any participant does not wish to attend.
Time:
The curriculum takes approximately 12-14 hours to deliver over two days, which includes two 10-minute breaks and a 45-minute lunch each day. The curriculum is sequential – each part of the training builds upon the step prior. People will need to attend both consecutive days of training.
Customizing this Training to Your Organization's Needs:
Tailoring the Coach Approach is essential to manage the unique needs and complexity of your organization. Prior to the training occurring, the training team will meet with the host and key leader to discuss the training, and learn about the agency, the current strengths, and challenges of the agency or people being trained, and the training environment.
Coaching Demonstrations:
The training features several coaching demonstrations. This will include live coaching with individual participants or previously recorded coaching conversations on video. No coaching demonstration will consist of role playing or pre-scripted demonstrations. To provide an example of effective coaching in the moment, and publicly address the participant's individual concerns, the facilitator will be using coaching as their first instinct in response to questions by the participants. Coaching will be done often in this manner, time permitting, and depending on the subject matter of the question.
The Coach Approach is:
Creating a mindset and skill set to apply broadly to the work we do.
Modeling as leaders and program administrators
Engaging each other
Investing in developing others
Making our agency more effective.
The Mindset of the Coach Approach:
The leader/coach is not the expert, or the judge, but creates a partnership for learning and change.
We bring and model deep respect for each individual's own learning and development.
Our intention is to strengthen the team member to support his/her success.
We assume the person has good ideas and that when we ask powerful questions from curiosity those ideas can come out.
The Coach Approach Model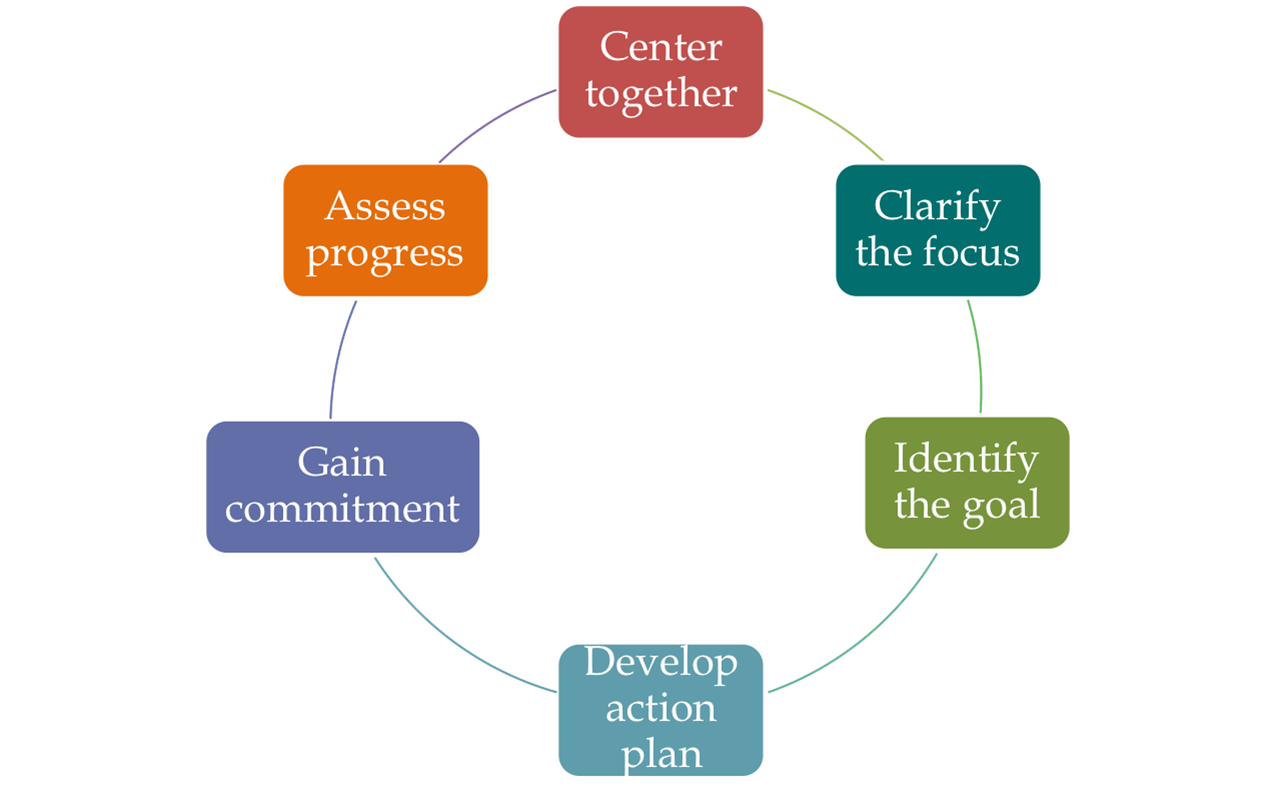 Coach Approach to Adaptive Leadership Posters
The Coach Approach to Adaptive Leadership has several points of key areas which frame how we interact with one another. We have developed posters which can be printed off on 8.5 X 11 paper for your quick reference. Download Coach Approach to Adaptive Leadership Poster Here
Coach Approach Webinars:
For archive videos of the Coach Approach to Adaptive Leadership, webinars follow this link: Coach Approach Webinars
Hosting a Coach Approach to Adaptive Leadership Training:
For those who may be hosting a training in your location follow this link for more detailed information. www.pacarepartnership.org/community-partners/coach_approach_training /hosting-a-coach-approach-to-adaptive-leadership-training.
For information on the trainers follow this link: www.pacarepartnership.org/community-partners/coach_approach_training/coach-approach-to-adaptive-leadership-trainers.