YOUTH ORGANIZATIONS LOCAL, STATE AND NATIONAL
Youth Organizations
State and Local Youth Organizations
Youth MOVE PA*
Contact persons: Corey Ludden and Zack Karenchak
Address: 4105 Derry St, Harrisburg, PA 17111
Email: Corey@youthmovepa.org and Zack@youthmovepa.org
Youth MOVE PA Mission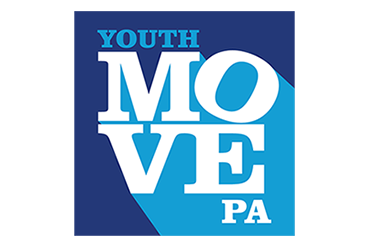 As young adults, we will represent, empower, and encourage all of our peers and their allies to unite in educating and providing supports through advocacy to revolutionize the Commonwealth of Pennsylvania.
Youthquake: a significant cultural, political, or social change arising from the actions or influence of young people.
Youth MOVE PA has started a youthquake for all young adults between the ages of 16 to 29 to be powerful active forces in their social supports and to have a seat at the table of public policy as it relates to youth in Pennsylvania.
As young adults, we will represent, empower, and encourage all of our peers and their allies to unite in educating and providing supports through advocacy to revolutionize the Commonwealth of Pennsylvania.
It is our vision that all young adults across the state of Pennsylvania be active, respected and powerful forces of positive change in the delivery of social services and the design of social and public policy.
*Youth MOVE PA contracts with the PA Care Partnership to provide Technical Assistance and Training for the PA Care Partnership.
Youth MOVE Philadelphia
Contact person: Shaiheed Days
Address: 1101 Market Street,7th Floor, Philadelphia, PA 19107
Email: shaiheed.days@phila.gov
Web: psoc.dbhids.org/for-youth/
Youth MOVE Philly (YMP) is a local chapter of Youth MOVE National (Motivating Others through Voices of Experience). YMP is devoted to improving services and systems that support positive growth and development by uniting the voices of individuals who have lived experience in various systems including mental health, juvenile justice, education, and child welfare.
Locally and nationally we serve to unite the diverse voices and causes of young people while raising awareness around youth-related issues. We will advocate for youth rights and voice in mental health and the other systems that serve young people, for the purpose of empowering youth to be equal partners in the process of change.
Current opportunities that our youth members are involved include: PSOC County Leadership Youth Partner role; Community Behavioral Health (CBH) Board of Directors Youth Member role; Crisis Intervention Team Training with the Philadelphia Police Department; Annual Children's Mental Health Awareness Day events, Philadelphia School District and community-based presentations and trainings; various opportunities to engage and work with child-serving system leaders, community leaders, and young people throughout Philadelphia.
Fayette County Youth MOVE
Contact person: Christine Rosinski-Stone
Address: 215 Jacob Murphy Lane, Uniontown, PA 15401
Office: (724) 430-1370
Email: christinestone@fcbha.org
Web: www.fcbha.org
Fayette Youth MOVE, an affiliate of Fayette County Behavioral Health Administration and a chapter of Youth MOVE National, is a youth-guided advisory group developed to:
Enhance youth voice in the county
Improve positive youth/professional collaboration
Provide youth input in efforts to improve services
Promote the development of youth peer mentoring
Improve access to youth-driven services
The focus is on supporting youth through outreach and advocacy by utilizing community and provider presentations, community education and the promotion of community events. Youth MOVE members are transition-age youth committed to promoting positive experiences while also fostering fun and creativity.
SITY (Systems Improvement Through Youth)
Contact person: Duane Berry
Address: Allegheny County Department of Human Services, One Smithfield St., 4th Floor, Pittsburgh, PA 15222
Office: (412) 350-7162
Email: Duane.Berry@AlleghenyCounty.us
Website: www.alleghenycounty.us/Human-Services/About/Advisory-Bodies/Systems-Improvement-Through-Youth.aspx
The Department of Human Services (DHS) Youth Development Project, established in 2009, formalized the role of youth in the DHS Improving Outcomes for Children and Families Initiative. The project endorses the DHS commitment to involving all stakeholders in services planning and to improving the lives of the children, youth, and families who receive services. The Youth Advisory Council later renamed Systems Improvement Through Youth, or SITY, is a fundamental part of the project.
Established in 2009, SITY is comprised of 14 individuals, ages 16 through 25 years, who are active in or alumni of DHS child-serving systems including child welfare, mental health, intellectual disability, developmental disabilities, juvenile justice, and drug and alcohol.
Youth Advisory Board (Child Welfare Resource Center Statewide)
Child Welfare Resource Center
403 E Winding Hill Road
Mechanicsburg, PA& 17055
Contact person: Marvin Butts
Email: MDB122@pitt.edu
Web: www.independentlivingpa.org
The Pennsylvania Youth Advisory Board (YAB) is comprised of current and former substitute care youth ages 16-21. Youth leaders on the YAB educate, advocate, and form partnerships to create positive change in the substitute care system.
The YAB is funded by the PA Department of Human Services, Office of Children, Youth and Families and is supported by the University of Pittsburgh, PA Child Welfare Resource Center.
Click on the map below to view the six regional Youth Advisory Boards around Pennsylvania. Each regional YAB is led by youth officers and at least one staff regional YAB coordinator. Contact the regional YAB coordinator if you are interested in joining your Regional YAB.
TAAG (Transition Age Advisory Group, Value Behavioral Health)
Contact person: Karan Steele
Address: Beacon Health Options, PO Box 1840, Cranberry, PA 16066-1840
Email: karan.steele@beaconhealthoptions.com
Phone: (724) 744-6537
"TAAG" OR Transition Age Advisory Group and Beacon are committed to:
Promote and enhance effective communication between Beacon Health Options HealthChoices youth and young adults, their families, and other stakeholders.
Increase the quality of care by utilizing transition age individuals' expertise and perspectives.
Provide a forum for youth, young adults, and families to share and exchange ideas, knowledge, and support.
Provide active support to the Family Advisory Committee to ensure transition age individuals' voices are heard.
My L.I.F.E. (Magellan Youth Leaders Inspiring Future Development)
Web: www.magellanofpa.com/for-members/community/my-life/
www.Facebook.com/MYLIFEyouth
My LIFE Information. If you live in:
What is MY LIFE?
Magellan Youth Leaders Inspiring Future Empowerment (MY LIFE) is made up of youth between the ages of 13 and 23 who have experience with the following issues:
Mental health
Substance use
Juvenile justice
Foster care
Founded in Arizona in 2008, the group focuses on important issues affecting youth through:
Regular meetings
Special events
Presentations
Performances
MY LIFE is helping to improve the lives of youth between the ages of 13 and 23 who are dealing with issues related to mental health, substance use, foster care, and juvenile justice. It gives youth the chance to become leaders in their communities. Magellan Behavioral Health of Pennsylvania has partnered with Bucks, Cambria, Delaware, Lehigh, Montgomery and Northampton counties to host MY LIFE groups in these counties.
Pennsylvania Youth Leadership Network
Web: pyln.org/pyln
Contact the PYLN Governing Board directly, email us at pyln.gb@gmail.com
The Pennsylvania Youth Leadership Network (PYLN) is one of the longest standing youth-led, youth-driven groups in Pennsylvania. The group began in 2005 as an initiative of the Pennsylvania Department of Education Bureau of Special Education. The PYLN was initially created as a means of a long-standing youth-leadership, youth-development presence for youth with disabilities. Before 2013 the PYLN focused on providing assemblies, training, and resources for Special Education professionals, youth with disabilities, and their families.
York County Mental Health Alliance
Email: ycymha@gmail.com
Facebook: www.facebook.com/thesilenceends/
The Silence Ends Here is a Pennsylvania based organization run by youth to create a meaningful conversation about mental health issues and education.
School professionals and students across all seventeen school districts in York County, Pennsylvania formed an active student-led Youth Mental Health Alliance (Alliance) that serves as a catalyst "to end the stigma of mental illness and to ensure that mental-health resources are available to everyone who needs them"—especially the county's youth. The group meets quarterly to create opportunities, spread positive awareness and engage their peers and community, using tools such as events, billboards, T-shirts, and social media to educate the public about mental health issues and deficiencies in resources.
Minding Your Mind
Address: 1084 East Lancaster Ave, Suite 201, Rosemont, PA 19010
Contact person: Trish Larsen
Phone: (610) 642-3879
Fax: (610) 896-5704
Email: Trish@mindingyourmind.org
Website: mindingyourmind.org/
Minding Your Mind's (MYM) primary objective is to provide mental health education to adolescents, teens and young adults, their parents, teachers, and school administrators. Our goal is to reduce the stigma and destructive behaviors often associated with mental health issues. Treatment is available, yet only 3 out of 10 individuals needing help seek help. Minding Your Mind Programs move away from crisis based response to prevention through education.
PA YOUTH CONGRESS
Address: 210 Grant Street, Pittsburgh, PA 15219
Phone: (717) 743-1035
Email: info@payouthcongress.org
Website: payouthcongress.org
As a movement of young people, we have chosen to develop a new vision for how we run our movement. Too often we see the organized movement becoming a series of non-profit organizations not working well together and distraught over limited resources. As a volunteer-based organization, we have no membership dues and rely on private donations for our work. PYC is proud to be the nation's first youth-led statewide LGBTQ advocacy organization. While some national and state organizations may have youth "programs," they can lack authentic and meaningful engagement of youth. PYC believes in the full empowerment of ourselves as young people to be leaders of today. We operate for the purpose of effective youth advocacy, as an organization willing to work with our partners and allies from all across Pennsylvania.
We stand for inclusivity of all youth in our leadership. We do not align ourselves with any political party or politician. PYC is a coalition of youth committed to integrity, honesty, and communication. We believe in the power of executing effective advocacy through building across social justice movements with our allies.
National Organizations
Youth MOVE National
Youth MOVE National
PO Box 215
Decorah, IA 52101
Phone: 1-800-580-6199
Email: info@youthmovenational.org
Website: www.youthmovenational.org