Veirdre Jackson, Ph.D.: Fix the System, Not the Kids
Dr. Veirdre Jackson
Fix the System, Not the Kids
Thursday, July 29, 2021
This session engages educators in a Steps of Growth process to examine practices and policies around equity-based system building to not only support students from traditionally marginalized groups in being a success but creating a shift in dialog, access, opportunity, and impact so that they can become their full potential and authentic selves. Participants will be provided with tools to become a threat to inequity and receive strategies to address the "unspoken curriculum" that fosters bias and creates unwritten, unofficial, and sometimes unintended lessons, values, and perspectives that have a negative effect on students' academic achievement, educational aspirations, feelings of self-worth, and mental health.
By the end of this session, participants should be able to:
Understand the difference between grit/deficit ideologies and equity ideologies.
Consider how current school policies, practices, and procedures impact marginalized students' learning and mental health.
Advocate for meaningful and equitable change in educational settings by rethinking and reforming the messages, lessons, and experiences that marginalized students learn in the classroom and school environments.
Dr. Veirdre Jackson, Masters of Education, Doctorate of Education, CEO/ Founder: Living Strong Consulting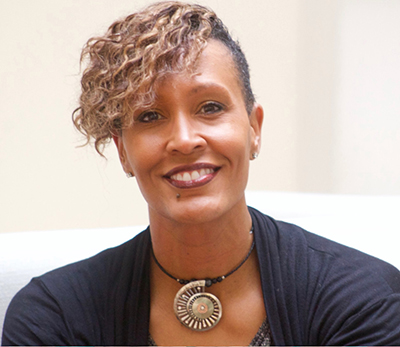 Dr. Veirdre Jackson is a woman pursuing her purpose, passion, and life's priority to share her belief that all children deserve the best education available. She is an award-winning author, educator, and entrepreneur who is recognized as a leading educational trainer in trauma-informed practices and cultural competence. She is a veteran educator with over 20 years of experience supporting non-profit and executive leadership.
Through her experiences with systems-based approaches to Trauma Awareness and Competency Development, the Resiliency Approach, and Positive Behavior and Intervention Strategies, she has harnessed her passion for building organizational resilience and personal strength on behalf of youth, families, and educational professionals. She provides training, consulting, and supports for parents, educators, administrators, clinicians, and youth development staff who desire to impact children from the inside out.
Dr. Jackson is the CEO/Founder of Living Strong Consulting LLC and the Co-Founder of Fresh Fountain of Life Counseling and Wellness. She also serves on the educational executive boards of the Black Women's Educational Alliance and Camp Endeavor. She is a highly sought-after keynote speaker and consultant, working with organizations like Lakeside Global Institute as a mentor trainer; Penn State Extension as an online course developer; Pennsylvania Early Head Start as a classroom and home visiting coach; Zero to Three as a Certified trainer in Infant Toddler Competencies and the Growing Brain; and various K-12 public and charter school districts as an Equity and Justice Consultant and Relational Coach. Her commitment to leaders and organizational development is elevated through her John Maxwell Team Certification which allows her to support leaders in sustaining growth and maintaining mission through trainings, mastermind sessions, lunch and learns, and coaching in such topics as Today Matters, Leadership Gold, How to Be a REAL Success, Becoming A Person of Influence, The 15 Invaluable Laws of Growth, and more. Her internet radio show and podcast on Voice America's Empowerment Station, Spotify, and iHeart Radio entitled Living Strong: The Flip Side of Adversity reaches listeners with inspirational, authentic, and practical stories from lived experiences by her guest cohosts on how to manage bad experiences to leverage lessons and create gains in the areas of relationships, time management, health, mental wellness and mindset, finances, leadership, and faith.
Her first book – 16 Principles for Abundant Living - is a foundational guide for women's empowerment, and her 2019 book and video series Fearless Conversations with a Limitless God provides insight on addressing the challenges to breaking the cycle of toxic thoughts that keep women in "hiding places".
Dr. Jackson has been recognized for her expertise in professional development by Pennsylvania's Keystone Stars' Southeast Regional Key as a Professional Development Champion; is a featured presenter for the 4 Part Trauma and Child Development Series by Penn State's Better Kid Care; has been a contributor to Women's Entrepreneur Magazine; is a reoccurring keynote and breakout session speaker for conferences nationally and the guest speaker on several podcasts, and was recognized by the Philadelphia Business Journal as one of 40 Leaders Under 40. Dr. Jackson holds a Bachelor's degree from Drexel University; a Master's degree in Elementary Education from Temple University; and a Doctoral Degree from Wilmington University in Leadership and Innovation. She is a wife and mother of two girls, and GiGi to her grandsons, Max and Jaxon, and granddaughter, Ceres.
Resources:
Video: Unspoken Curriculum: https://www.youtube.com/watch?v=fEWdOtfwwbQ
As the pioneering Black mental health advocacy group in the US, the Boris Lawrence Henson Foundation provides access to localized and black-culturally competent therapy resources sourced through a network of clinicians, service providers, counselors, and thought leaders. The foundation is named in honor of Boris Lawrence Henson, father of Academy Award and Emmy nominated actress and founder Taraji P. Henson, who suffered mental health challenges without resources or support. Learn more: https://borislhensonfoundation.org/unspoken
Talking to Young Children About Race and Racism: A Discussion Guide provided by PBS Kids: https://www.pbs.org/parents/printables/talking-to-young-children-about-race-and-racism-a-discussion-guide
Recording:
After viewing the webinar above, you have the option to download a Certificate of Viewing by Completing a brief evaluation and attesting that you viewed the webinar in its entirety. However, this is not a Certificate of Attendance for the webinar when it was live broadcasted. Additionally, viewing the webinar through the website does not permit applying for or issuing Continuing Education Credits.
Please Click Here to start the evaluation and download your Certificate of Viewing.