YOUTH MENTAL HEALTH FIRST AID
Support Youth Mental Health First Aid
Be 1 in a Million
Articles and Information on What is Happening in YMHFA
Training and Events Opportunities
Over the past 10 years, Mental Health First Aid has gone from a phone call to a movement—more than 500,000 First Aiders strong and growing each day. And many of you have played an integral role in that growth by supporting the certification of instructors and promoting the course in your communities.
The start of 2016 has been an exciting time for the National Council. With the announcement of our "Be 1 in a Million" campaign, we have our sights set on an ambitious goal: one million people trained in Mental Health First Aid. With your continued support, we can reach that goal. We can build healthier and stronger communities across the U.S. We can teach more people how to be better neighbors, family members and friends.
As a Mental Health First Aid champion, we ask that each of you join us in becoming one in a million. How?
Join the campaign. Pledge your support by sending your organization's logo to danip@thenationalcouncil.org to be added to our partners page. Then proudly display one of our badges to show your supporters you are part of this movement. (Find them here on our website for easy downloading.)
Get trained. Get trained and encourage others to do the same.Find a course near you, or email info@mentalhealthfirstaid.org to arrange a special training.
Support the National Council store. Ask instructors to buy their manuals and materials from the National Council. Revenue from sales support classes for individuals that work with vulnerable populations and instructor scholarships for people including those with lived experience. Just tell your instructors to choose "National Council store" from the drop-down menu on their instructor-only portal.
Share. Spread the word about the Be 1 in a Million campaign by posting our shareable graphics on your website and on social media using the hashtag #1in1m. (And be sure to follow @nationalcouncil and @MHFirstAidUSA on Twitter!)
Talk about it. Believe in the power of Mental Health First Aid? Talk about it. Start conversations with your family, friends and coworkers, and post about your experience with the course on Facebook and Twitter using the hashtag #1in1m.
Live it. If you're already trained (and many of you are), you have the skills to start a conversation with someone who may need help. Put your skills to use the next time you encounter someone in distress. Have a Mental Health First Aid success story? Share it with us. Email info@mentalhealthfirstaid.org, and we'll add your success story to the Mental Health First Aid website.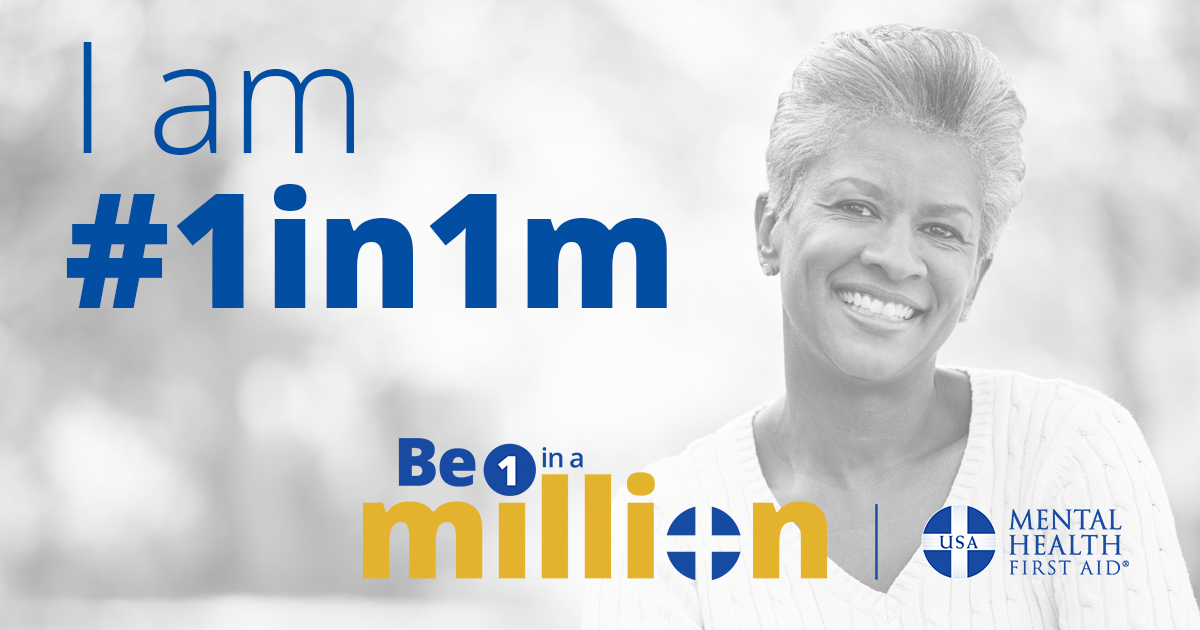 More information visit: http://www.mentalhealthfirstaid.org/cs/be-1-in-a-million/