Gender Identity, When do Children Know
Melissa Perkins, MEd, MPPM,
Gender Identity, When do Children Know, and much more: The Nuances of LGBTQ+ and Mental Health
Thursday, August 11, 2022
After viewing the webinar above, you have the option to download a Certificate of Viewing by completing a brief evaluation and attesting that you viewed the webinar in its entirety.
This is not a Certificate of Attendance for the webinar when it was broadcasted live.
Please Click Here to start the evaluation and download your Certificate of Viewing.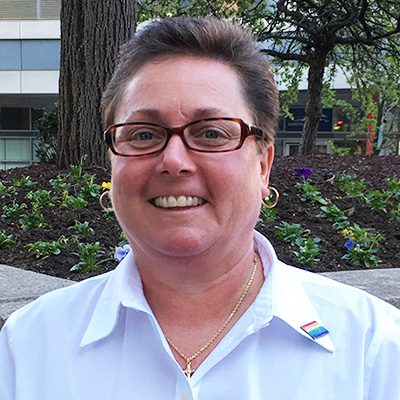 Webinar summary: Being a young person can be a challenge. We know that LGBTQ+ youth face more significant challenges, evidenced by a high rate of health disparities than their non-LGBTQ+ peers. Health disparities include mental health issues such as anxiety, depression, suicide, and substance abuse issues. Increasing protective factors, including family and community support and access to health care for LGBTQ youth, can help to decrease the risk for behavioral health issues.
Cultural competency training and assessment provide health, medical, and social service providers with an increased capacity to address health disparities to improve health outcomes and higher quality of life, specifically for the LGBTQ+ population. Professionals who provide health, medical, and social services must recognize their own implicit biases to provide care in culturally responsive ways.
Biography: Melissa Perkins, MEd, MPPM
Melissa Perkins, MEd, MPPM, has over 25 years of experience working in social services. She has provided direct care to adolescent youth in residential programs; managed a youth residential program; provided individual mental health and drug and alcohol therapy; provided drug and alcohol group therapy; facilitated court ordered Batterer's Intervention Groups; and, most recently, she has focused on delivering training focusing on LGBTQ+ issues. Melissa holds two Master's Degrees, one in Education (Counseling) from Duquesne University and the other in Public Policy Management from the University of Pittsburgh.
Resources and recommendations from the presentation:
Resources:
GLAAD (Gay & Lesbian Alliance Against Defamation) Transgender Media Program https://www.glaad.org/transgender
APA Joins Lawsuit Challenging Ban on Transgender Care https://psychnews.psychiatryonline.org/doi/full/10.1176/appi.pn.2022.07.7.16?utm_campaign=email&utm_source=etoc&utm_medium=textlink&utm_content=news
Transgender American Veterans Association https://transveteran.org/
TransFamily of NWPA is an organization created to serve the transgender community of Northwestern Pennsylvania, serving Erie, Crawford, and Warren counties. https://transfamilynwpa.org/
Provides information and support to LGBTQ young people. www.thetrevorproject.org
PFLAG (no longer an acronym, initially, PFLAG stood for Parents and Friends of Lesbians and Gays) is a nationwide organization. www.pflag.org
Mission: To promote evidence-based care, education, research, public policy, and respect in transgender health. https://www.wpath.org/
Transgender 9-Year-Old Advocates for Other Children Like Him | NBC Nightly News https://www.youtube.com/watch?v=mvTncHeKrcg
GLSEN (Gay, Lesbian & Straight Education network) www.glsen.org
National Survey on LGBTQ Youth Mental Health 2021, source of statistics shared during webinar - https://www.thetrevorproject.org/survey-2021/?section=SuicideMentalHealth
Recommended books from audience members:
"The Pronoun Book: She, He, They and Me!" by Cassandra Jules Corrigan
"Introducing Teddy: A Gentle Story about Gender and Friendship" by Jessica Walton
"My Rainbow" by DeShanna Neal and Trinity Neal
"Lovely" by Jess Hong
"The GayBCs" by M.L. Webb
"Neither" by Airlie Anderson
"Mary Wears What She Wants" by Keith Negley
"Jack (Not Jackie)" by Erica Silverman
"Julian Is a Mermaid" by Jessica Love
"When Aiden Became a Brother" by Kyle Lukoff
"Beyond the Gender Binary" by Alok Vaid-Menon
And other resources:
The Family Acceptance Project https://familyproject.sfsu.edu/
Pittsburgh area LGBTQIA mental health services
Creating Safer Spaces in Schools for LGBTQ Youth https://www.thetrevorproject.org/resources/article/creating-safer-spaces-in-schools-for-lgbtq-youth/
Family Acceptance Project https://familyproject.sfsu.edu/
Find a welcoming congregation link: http://www.welcomingresources.org/
Heteronormativity: definition, societal examples, and why it's harmful to LGBT+ community https://www.pinknews.co.uk/2019/04/11/heteronormativity-definition-societal-examples-and-why-its-harmful-to-lgbt-community/