May is Mental Health Awareness Month 2022
May is Mental Health Awareness Month 2022
Events in Pennsylvania
The Capitol building in Harrisburg will be lit in green from May 16th through May 29th for Mental Health Awareness Month.
PA Care Partnership Virtual Speakers for May
The Kids Are Not Okay, Practicing Empathy for Everyone, Even Yourself, speaker Gab Bonesso, Thursday, May 5, 2022, from 2:30 to 4 p.m.
The Pandemic has Created a Mental Health Crisis: Schools, Mental Health, and What Teens Have to Say, panelists, Thursday, May 19, 2022, from 3 to 4:30 pm
Youth MOVE PA
The Life Through My Lens Campaign is live on TikTok, Facebook, and Instagram!
Make your own video of how you battle negative self-talk and submit it to be part of the campaign on social media. If you have any questions on what to put in your video, email tristan@youthmovepa.org OR check out @pmhca on TikTok for examples. Email your submissions to: jereme@pmhca.org OR chris@pmhca.org. You may also submit videos to Youth MOVE PA through Facebook Messenger. Video submissions will be posted on social media and PMHCA and Youth MOVE PA websites. Please let us know how you would like your video to be used.
---
COUNTIES:
---
Blair County Event for May
---
Capital Area Intermediate Unit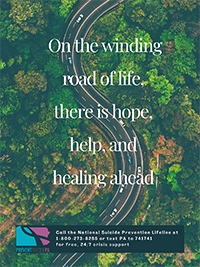 The Capital Area Intermediate Unit serves Cumberland, Perry, and Dauphin counties. They also serve York county for West Shore School District students living in Etters and Northern York county for those living in Dillsburg; and, Franklin county for services provided for Shippensburg SD.
2022 Prevent Suicide PA PSA Contest for Youth Suicide Prevention. And the winner is: the Capital Area Intermediate Unit's Capital Area Mental Health Program students who won first prize in the contest. Congratulations!!
And, more events from around the state.
---
Delaware County
Saturday, May 14 from 11 am to 4 pm, Inspi-HER'd, a fun field day for youth girls from 5th to 8th grade to support positive health and wellness. Hoffman Park, 34 Scottdale Road, Lansdowne, PA. Provided by State Representative Gina H. Curry.
May 21, 2022, from 10 am to 2 pm. The Wellness Center at Grace Lutheran Church, 2191 W. Chester Pike, Broomall, PA presents Growing Well: A Health and Wellness Fair for All.
Public Service Announcements
---
Greene County Event for May
Children's Mental Health Awareness Picnic on May 5, 2022, from 3 to 6 p.m. at Lions Club Park
14th Annual Community Supports Program Wellness Conference. This year's theme is "When in Doubt, Dance it Out!". Please join us on Tuesday, May 17th at the Lion's Club Park in Waynesburg from 10:30 am to 3 pm to dance it out. There will be a DJ, dance party, free lunch, resource fair, and raffle prizes. Attached is the flyer for the event and a form to submit to be an exhibitor at the resource fair. Please pass them along to anyone who you think would like to join us. Please come and help us celebrate May as Mental Health Awareness Month and help us work to Shatter the Stigma associated with mental health needs.
---
Luzerne County Events for May
Minding Your Mind Speakers:
Jordan on May 2, 2022, from 5:30 pm - 6:15 pm
Brooke on May 11, 2022, from 5:30 pm - 6:15 pm
Andrew May 22, 2022, from 5:30 pm - 6:15 pm
---
York County Events for May
The Mental Health Awareness Month Committee has been hard at work preparing for our May Awareness Campaign. Check out the list of upcoming events in York County. York County Mental Health Awareness Month flyer.
Kick-Off Walk:
As you know, the official kick-off of Mental Health Awareness month is scheduled for Wednesday, May 4th which will include the reading of the proclamation, and comments regarding York's mental health initiatives, followed by The Mayor announcing the kick-off of the walk. The staff and community are invited to walk along for a short walk around the block. The York City Police Department will be assisting with walker safety at street crossings.
First Friday:
The Human Services Department will have information tables set up outside of the Human Services building. Please stop by to visit. We will be handing out green light bulbs and other trinkets along with informational brochures.
Green Lights:
Designated County and City buildings will be lit up green along with dozens of downtown businesses from May 16th to the 22nd. Individuals, businesses, churches, and schools are also being encouraged to light up green by simply changing their bulb color.
In addition to the lights, you will see a street banner strung across Continental Square promoting this awareness campaign along with signage that will be placed in strategic locations around town. (i.e. such as the planter boxes--thanks to our partnership with Downtown Inc).
You can also expect to see digital billboards in several locations around the County promoting the "Shine the Light on Mental Health" theme. Lamar has been a supporter of our campaign for the past three years and has generously donated their billboard space to promote this initiative.
Revs Game:
As you know the Revs game is slated for May 20th. Vendors will be present to share their agency information and resources. The Human Services Department will also have a table set up and plans to have giveaways at the end of the game.
In addition to the pre-game promotional activities where we will be airing student-produced PSAs, we will also be organizing a special memorial event at the end of the game for families who lost loved ones by suicide. In collaboration with the Coroner's Office, families are being invited to walk on the field carrying a green light, representing their loved ones who have passed.
Schools:
Every year, schools are invited to either light up their school green or host a mental health awareness event in their school. The System of Care has allocated funds for schools to purchase materials to light up green! Schools will have an opportunity to submit a video to show what they did to raise awareness among the student population. The winning videos receive a donation from the System of Care to put toward mental health awareness activities for their district.
TikTok Campaign
York County students are creating a TikTok Mental Health Challenge under the guidance of Kylee Social, a social media management agency based in New York City and Philadelphia, PA. The owner, Paige Knapp, is a Central York graduate and is generously providing $7,500 of in-kind services.
Kylee Social is also assisting us in creating a series of TikToks geared to parents.
Click on the link for additional details about the Youth Challenge: https://bit.ly/3IUaVF2
Got Your Back Challenge Tool Kit- Google Docs Link: https://docs.google.com/document/u/0/d/1brypB5lCjhaPy7ys_PAw8yEH5Z8fx_DkRsKs-Q3L5vk/mobilebasic
Got Your Back Challenge Tool Kit (PDF)
How to Use Social Media To Reach Youth During Mental Health Awareness Month & "Got Your Back Challenge" (PowerPoint_PDF)
Neighborhood Gathering
Members of our Human Services team will be offering training for employees of Downtown businesses that will focus on mental health, drug and alcohol, and homelessness. The purpose of the training is to provide insights on how to handle situations if their customer is experiencing a mental health episode or drug reaction. The training will include input from a York City Police officer as well.
Community Film Focusing on Suicide and Mental Health
The System of Care is sponsoring a film for schools and the community to view. We plan to host several showings throughout the month. More information to follow.
For additional information about Emma's story, please click on the link: www.MyAscension.us
Check out their PSA Videos: